Sustainability
Fossar's goal is to be a leading Icelandic enterprise in the fields of social responsibility and sustainability, both in terms of its own operations and through the extensive influence that the operations have on clients and other beneficiaries.
Sustainability has always been a guiding principle of the company's practices and this sustainability policy is part of an effort to ensure that the operations and management of the company will continue to be exemplary.
The company has been a pioneer in managing issuance of green bonds in Iceland. Green bonds are issued to fund environmentally-friendly projects and are considered a powerful tool to respond to climate change. The company managed the first issuance of green bonds in Iceland and has been a leading adviser in the green bond market.
Fossar's Asset Management has adopted procedures on responsible investments. Responsible investment refers to the incorporation of environmental, social and corporate governance factors (ESG) into investment decisions and this emphasis will be applicable to the entire investment process of Asset Management.
This sustainability policy extends to both the operations and management of Fossar. Employees have been part of the policy-making process and are informed about this policy, its goals and purpose.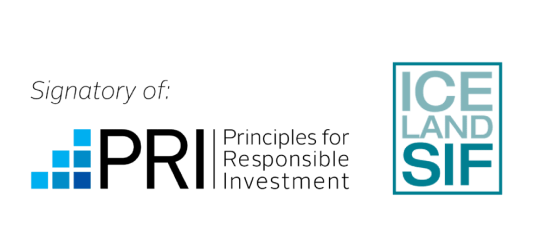 Fossar is a signatory of the UN Principles for Responsible Investment (UN PRI). The signature entails a public commitment on behalf of the Company to implement and realize the UN PRI's main principles in its operations.
Fossar is a member of IcelandSif, Iceland Sustainable Investment Forum, a discussion forum which aims to promote awareness and debate about the methods of sustainable and responsible investment. Fossar's employees are active participants and representatives in the forum's working groups.